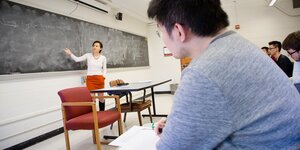 See online schedule for current topics. There are many sections to choose from. May be repeated in the same or separate terms to a maximum of 12 hours if topics vary. Prerequisite: Junior standing. 
EALC 389-CIC Kingdoms Queendoms Collectives: Gender is an essential component of social organization in most human societies; however, archaeologists often apply modern constructions of gender to the past without appropriate reflection and consideration. The Korean peninsula's earliest state-level societies provide an ideal case study for the interrogation of gender in the deep past, with evidence of complex gender roles that varied widely among cultures, including whether the authority to rule was carried by queens or kings. This course examines the archaeological record of major social and cultural changes leading to the establishment of kingdoms and queendoms (focusing on the period between 200—600 CE) in Korea, as well as the trajectories of societies that rejected the trend toward centralizing into states. Taking a critical approach to gender as our guide, we will challenge existing assumptions about social order, leadership, economic organization, inequalities, and identities in the formation of Korean civilization. This course is a Big Ten Academic Alliance course and is taught via video conference from University of Michigan (taught by Dr. Rory Walsh). 
EALC 389-CTC: This course explores the rich visual culture of Japanese Buddhism. We will examine Buddhist sculpted images and illustrated hand-scrolls, portraits and picture books, mandalas and manga, from anime to zenga. In addition to examining Japanese Buddhist art and film, we will be analyzing the role that images play in Buddhism, the practices of production, and the ritualized ways of looking and interacting with these visual media.
EALC 389-D: Yellow Peril Redux: From Coolies to Communism, Trade Wars and Coronavirus: This undergraduate seminar bridges the disciplinary gap between cultural, economic and political studies of U.S.-East Asian interactions. It aims to introduce to students an interdisciplinary study of the historical roots and cultural idioms beneath the contemporary economic and political debates concerning the "Trade Wars" and the pandemic caused by coronavirus, beneath the broader popular rhetoric and political policies that deeply impacts people's daily life and contributes to the divisive acrimony in U.S.-East Asian relations. Students will study Yellow Peril across the demarcation between humanities, economics, law and business, and between theoretical and empirical research. Students will be trained to examine primary sources from a variety of genres, including legal cases, news reports, films, political cartoons and governmental documents from the late 19th century to the present. Topics to be covered include Origins of Yellow Peril, Vincent Chin and Japanese Cars, Industrial/Corporate Espionage and Law, Politicians on Trade War, Science and National Interests, The Japan / China that Can Say No, Coronavirus and Yellow Peril Redux. Our interdisciplinary approach and transnational topics will help to translate academic research to classroom teaching and address real-life concerns faced by people from various walks of life in this era of community reconstruction via cross-border cultural and economic confrontation, controversies, communications and conversations.
EALC 389-MSS:  This course looks at the birth, growth, and rise of Hanguk hip hop—Korean hip hop—by locating the local, national, and global flows of cultural and musical exchange between America and South Korea. By doing so, it outlines the sociocultural, economic, and historical conditions that underlie the production, circulation, and consumption of Korean hip hop. How did hip hop travel from America to root itself in Korean society? How did Korean hip hop develop over the last three decades as a cultural and artistic entity? How is hip hop represented in Korean media and popular culture? In considering these questions, we will pay close attention to how Korean hip hop artists— particularly rappers—(re)imagine their identities through music in various sociocultural, economic, and political contexts that oftentimes flow outside of Korea and extend to not just East Asia but across America and other parts of the world. With the help of scholarly readings, our study will question several intersections including cultural appropriation and appreciation; authenticity and identity; and youth subcultures, community, and technology.